Customer Testimonials
The case is perfectly sized to hold the Apple Bluetooth keyboard. The front and back of the case are stiffened to protect the keys. I like to keep my electronics scratch-free
Janet Cloninger, The-Gadgeteer.com
the-gadgeteer.com20101222javoedge-cherry-blossom-axis-case-for-ipad-and-cherry-blossom-case-for-apple-bluetooth-keyboard-review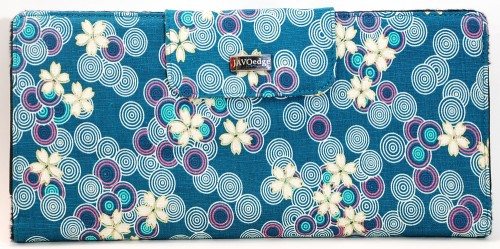 The JAVOedge Cherry Blossom Case for Apple Bluetooth Keyboard is a simple envelope-style sleeve with a flap closure, designed specifically for the Apple Bluetooth keyboard. The case is about 11-1/8" long X 5-1/4" tall X 7/8" thick and weighs about 1 pound with the keyboard inside. The flap is about 3-3/4" long and is held closed with a magnet. Because the flap is small, much of the keyboard battery compartment is left uncovered. The only branding on the case is the metal tag engraved with the JAVOedge name centered on the magnetic flap.

Lifting the flap reveals rectangular cutouts on the front and backside of the case. This allows you to get a grip on the keyboard to extract it. The interior is lined with a black velvet material. The sides of the case are black fabric elastic bands that leave roughly one inch open at both the top and bottom of each side. You insert the keyboard into the case with the battery compartment at the top and partially exposed because of the small closure strap.





There is a storage pouch on the back of the case. The top is held closed with a Velcro strip centered along the top. Inside the pouch is an elastic loop that could hold a very thin, short pen. It might hold a AAA battery, but the Apple Bluetooth keyboard uses two AA batteries. There is also an elastic band with a Velcro closure that could corral a charging cable. This pouch is lined with a smooth, black fabric.

The case is perfectly sized to hold the Apple Bluetooth keyboard. The front and back of the case are stiffened to protect the keys. I like to keep my electronics scratch-free, so I do wish the flap covered the entire length of the top and the elastic bands covered more of the sides. However, the case should prevent damage to the keys, and I guess that is the most important factor.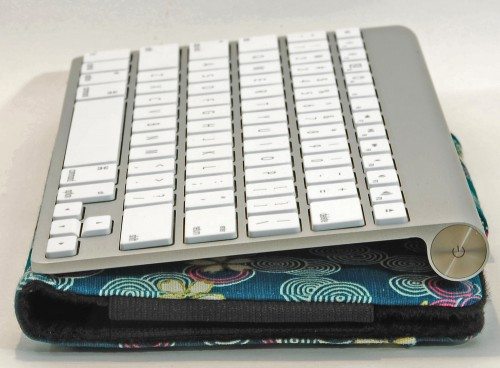 Pictures at JAVOedge show the case being used as a "lifter" for the keyboard while typing. Because the Apple keyboard is so thin and has a pre-determined, non-adjustable angle caused by the battery compartment, you may find using the case as a base for the keyboard makes typing more comfortable.

Return to overview